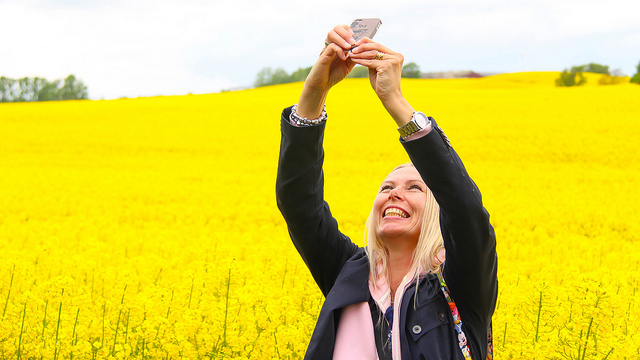 Top 5 Instagram Tips For Businesses
Posted on Jun 26, 2014 · 4 min read
Since carrying a cell phone 24/7 has become the norm, almost everyone has access to a camera at all times. We take pictures of our family and friends, scenery, our food and don't forget all the selfies! While documenting our lives is a great way to store memories, it's also a solid way to gain new followers and likes on everyone's favorite photo-sharing app, Instagram.
Since launching in 2010 Instagram has gained over 200 million users. Here's a little information on the demographics of those users:
50% of users use an iPhone and 50% use Android
68% of users are female and 32% are male
90% of the 200 million users are under the age of 35
24% of users say they use the app several times a day
65% of users are outside of the United States
1.6 billion likes occur every day
60 million photos are uploaded per day
24.6% of fortune 500 companies have an account
Many companies struggle with marketing their products to teens and college students since they immediately fast forward your commercials and delete your emails. Not only does Instgram have a huge reach with their 200 million followers, but they are also reaching a demographic that is generally very hard to market to.
You might be thinking "but my company isn't trying to reach this demographic or is not selling B2C products." Instagram is still another great marketing tool for your company engage with. Images and videos help give any social media program a boost.
So, if your company already has an Instagram account or you're just now creating one, here are the top 5 tips for businesses to keep in mind when sharing your favorite photos.
Share a variety of content: While your ultimate goal is to sell your product, don't just post sales information. Users want to relate to you, so use Instagram as a chance to give them a glimpse of who your company is, put a face to the people behind the brand.
Timing matters: Even with 200 million+ users, there are still popular times that more users are engaged with their account. Unfortunately, there is not a magical time to post, but many studies have shown that posting a picture between 9 am and 9 pm EST is likely to get the best results. The most users are typically engaging with their Instagram account from 3-4 EST.
Hashtags are important: While it might seem strange, hashtags actually have a significant impact on the success of the content you post. Instagram is not all about following people and brands you like, it is also a tool to search and engage with new content that is interesting. Utilizing the hashtag allows you to connect with unconnected users.
Remember the video function: The Instagram video function has become more popular than the video posting app, Vine. Not only are videos fun to post but they engage users. Give a tour of the office, snippets of an event you're attending or a quick how-to. Oddly enough, users are more likely to engage with videos, in particular, after work hours, so keep that in mind when posting.
Filters are key: One of Instagram's best features is that users can instantly turn a simple iPhone photo into a high-quality piece of art with the handy editing tools, but choosing the right filter can increase or decrease the number of likes you receive. People are drawn to photos with blue tints, over red or orange images and light photos are generally more popular than dark photos. The top 3 most effective filters are Normal or No Filter, Mayfair and Inkwell.
So now that you have a little more insight into the world of Instagram, go take some photos, Instagram users are waiting to see what your company has to share!