In the Subscription Marketplace, Differentiation is Difficult
Endless options make it hard for digital marketers of these companies to generate brand awareness, sign up consumers and retain subscribers. While steep initial discounts may bring subscribers in the door, they aren't likely to keep them. Consumers are quick to hop to another service when the next latest and greatest trial offer pops up on Instagram.
What Is a Gated Offer?
Gated offers are targeted promotions designed for members of a particular group based on occupation (teachers), life stage (students, seniors) or affiliation (members of the military.) To access a gated offer, shoppers provide their eligibility credentials, such as a military ID or university email. Once they're verified, consumers enjoy their exclusive reward as long as they remain part of that segment.
Gated Offers Are Powerful Tools for Helping a Brand Stand Out
Americans love gated offers. Our consumer survey revealed 94% would take advantage of one, and 91% would share one with friends and family.
One reason gated offers are so popular is that they're truly exclusive, which is essential to the success of the offer and the company providing it. When shoppers know a brand allowed an "exclusive" offer to be wrongfully redeemed, 4 in 5 would lose trust in the brand and half would shop their less often. Verifying a shopper's eligibility increases the integrity of the offer in the eyes of consumers.
That true exclusivity is also at the heart of why gated offers work: they tap into a deep sense of tribal belonging that makes the target group feel honored and special. And rewarding shoppers for who they are motivates conversion, inspires loyalty, and sets a brand apart — just what a subscription company needs.  
Take for example Kettlebell Kitchen, a company that gathers a customer's individual goals (weight loss, muscle gain, etc.), then prepares and delivers tailored meals to the customer's home or gym. To attract highly-qualified prospects, Kettlebell recently launched a 15% gated offer discount for members of the military and first responders.
The gated offer is a smart move because it distinguishes Kettlebell Kitchen from other companies that provide a similar service. And the offer perfectly aligns perfectly with Kettlebell's audience. First responders and members of the military often make health and fitness a high priority.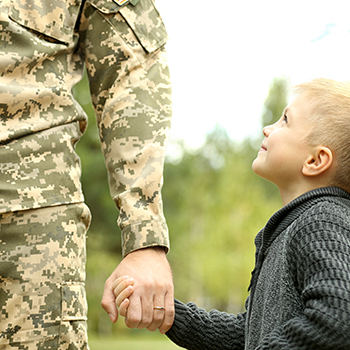 The offer also makes the company stand out because it embodies the company's unique brand identity. Kettlebell was founded by Andrew and Joe Lopez-Gallego – brothers who were both officers in the Army and who have a genuine commitment to "give back to those who give so much."
The Military Market is a High-Value Segment
The military segment offers a rich opportunity for subscription companies. With 34 million members – including active duty, retirees, veterans, reservists, national guard and family members – this vast pool of consumers has 35% higher income and $1 trillion in buying power.
Gated offers like the one Kettlebell Kitchen launched are a highly effective way to reach this audience because military members strongly identify with their community, and they appreciate and evangelize brands that recognize them. Ninety-five percent of military members say they are more likely to shop at a company that offers a military discount, and 76 percent say they learn about military discounts from word of mouth.
Gated Offers Appeal to Many Audiences
Gated offers can also help you rise above the noise with other segments that are just as lucrative and responsive.
The global total of college students is 180 million college students, and they have $523 billion in spending power. Younger subscribers are the holy grail, and seeding the market with a deep discount for college students accelerates acquisition and paves the way to easily convert them to full price when they graduate. When given access to a gated offer, 91% of students would be more likely to shop with the brand and 94% would shop with the brand more often.
The U.S. has 4.8 million teachers who spend $1.5B out-of-pocket annually on school supplies. According to our recent survey, 88 percent say they actively search for exclusive teacher discounts for both classroom supplies and personal items, and 90 percent are more likely to shop with brands with teacher appreciation programs.
Don't overlook the senior segment. There are 109 million seniors in the U.S. and they have $3.2 trillion in purchasing power. Seniors buy over 50% of all consumer goods, yet only 10% of marketing dollars are spent targeting them. A third of seniors shop online, and according to our consumer survey, 87% say a gated offer would make them shop with a brand.
Make Your Gated Offer Shopper-Friendly, Secure and Profitable
SheerID's Digital Verification platform ensures your gated offer is easy for eligible consumers to take advantage of and profitable for your brand. Here's how:
Verification occurs instantly and in-brand

as a natural part of the purchase process. This frictionless customer experience drives conversion.

Minimal data is collected

, so consumer privacy is assured and you have the data you need to continue cultivating the relationship for greater loyalty.

Authoritative data sources

backed up by document review provide 100% accuracy and prevents discount abuse.

ROI dashboard captures customer activity and provides feedback you can use to optimize your program's performance.
Ready to help your brand rise above all the noise?
Contact us to learn how gated offer programs can help you acquire and retain high-value customers.