A message from Jake Weatherly, CEO of SheerID
As I reflect on 2020, I have an overwhelming feeling of gratitude. Yet sometimes I dwell on the things that have been taken away, because it's been a historically difficult year. A global pandemic and social unrest have affected our communities around the world, leaving behind tremendous scars. Far too many friends, family members, and community members have been lost. While I recognize these tremendous losses and challenges, I find myself reflecting on the people in my life. You all inspire me to work harder every day and to meet these challenges with solutions and enthusiasm.
This year has also made me hopeful. Researchers around the world developed multiple vaccines at an unfathomably high speed. Families with young students adapted to the new challenges of at-home learning and working. Citizens around the globe united in solidarity with social movements that have galvanized change and momentum for good. And healthcare workers, first responders, teachers, and other key community members have worked so hard to keep us healthy, safe, engaged, and educated. Their efforts have been heroic.
They also inspired our partners to give back to heroes in our communities. Many brands we work with have expanded their identity marketing programs to thank these consumer communities with personalized offers that honor and recognize their service beyond self. The global recognition of such deserving individuals is incredibly moving.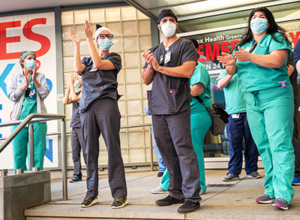 Our respective community heroes have also inspired my colleagues at SheerID to innovate, move forward with speed, and remain agile. Our teams' hard work was well-recognized, too, as SheerID placed 12th on Forbes Best Startup Employer list, and we made the Deloitte and Touche Fast 500 companies list again this year. Of course, throughout such an unpredictable year, this kind of growth and success is only made possible with the continued partnership of our investors and their belief in SheerID's mission and vision.
This year has faced us with extraordinary challenges, yet people and businesses everywhere responded with courage and integrity. That makes me optimistic and excited about the year ahead. I hope you feel inspired, too.
On behalf of the entire SheerID team, we wish you and your close ones a safe and restorative holiday season.